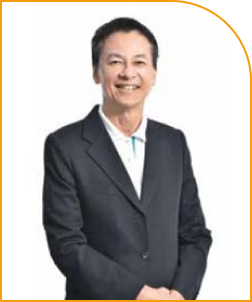 HO FOOK MENG
Independent & Non-Executive Director
Date of Appointment: 24 March 2015
Mr. Ho Fook Meng, male aged 63, was appointed as an Independent & Non-Executive Director of the Company on 24 March 2015.

Qualifications & Working Experience and Occupation:
He graduated from the University of Malaya, Kuala Lumpur with a Bachelor of Economics (Honours) degree in 1981 and holds a Masters of Business Administration from Kent State University, Ohio, USA.
Mr. Ho started his career in the banking and financial services industry in 1981 and has over 30 years experience in the said industry. He specialized in lending to SMEs and mid and large Corporations. As a senior banker he is very often tapped for his expertise and wide ranging experience by his banking clients and investors in their growth and expansion strategies.
He has established a very wide business network that was built over the years as banker and advisor to a wide range of his banking customers.
Board Committees(s) served on:

Chairman of the Nomination & Remuneration Committee
Member of the Audit Committee
Member of the Board Risk & Compliance Committee
Length of service as Director since the last appointment up to 18 May 2021:
6 years 1 month

Family Relationship with any Director and/or Major Shareholder of the Company:
Nil

Disclosure of Conflict of Interests with the Company:
Nil

Conviction for Offences within the past 5 years and any Public Sanction or Penalty imposed by relevant regulatory bodies (other than Traffic Offences) during the financial year end:
Nil

Present Directorship(s) in other Public/Listed Companies:
He does not hold any directorship in other public companies and listed companies.

Number of Board Meetings Attended from 1 January 2020 to 31 December 2020:
He attended all ten (10) Board meetings held in the financial year ended 31 December 2020.

Shareholdings in the Company:
His shareholdings are disclosed in page 153 of the Annual Report.