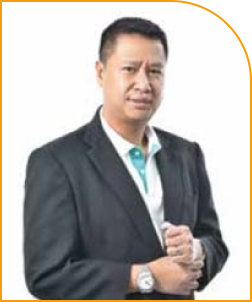 YAM DATO' SERI TENGKU BAHARUDDIN IBNI SULTAN MAHMUD
Non-independant & Non-executive Chairman
Date of Appointment: 1 December 2019
YAM Dato' Seri Tengku Baharuddin Ibni Al-Marhum Sultan Mahmud, male aged 45, was appointed as the Non-Independent & Non-Executive Director on 5 August 2016 and subsequently re-designated as Non-Independent & Non-Executive Chairman on 3 March 2017. However, on 28 June 2019, he resigned as the Director of the Company due to health reason and was re-appointed as Non- Independent & Non-Executive Chairman on 1 December 2019.

Qualifications & Working Experience and Occupation:
He obtained a Hotel Management Certificate from Singapore Hotel and Tourism Education Centre (SHATEC) in 1994. In 2008, he was appointed as Director of Haisan Resources Berhad until his resignation in April 2016. Currently, he is a Director of some of the Subsidiaries of the Group and also sits on the Board of other Private Companies.
Board Committees(s) served on:
Nil

Length of service as Director since the last appointment up to 18 May 2021:
1 year 5 months
Family Relationship with any Director and/or Major Shareholder of the Company:
Nil
Disclosure of Conflict of Interests with the Company:
Nil
Conviction for Offences within the past 5 years and any Public Sanction or Penalty imposed by relevant regulatory bodies (other than Traffic Offences) during the financial year end:
Nil
Present Directorship(s) in other Public/Listed Companies:
He does not hold any directorship in other public companies and listed companies.

Number of Board Meetings Attended from 1 January 2020 to 31 December 2020:
He attended all ten (10) Board meetings held in the financial year ended 31 December 2020.
Shareholdings in the Company:
He does not hold any shares in the Company.